!Converted with LaTeX2HTML 95 (Thu Jan 19 1995) by Nikos Drakos (nikos@cbl.leeds.ac.uk), CBLU, University of Leeds >
---




Next:
Levels of observation
Up:
Definitions of Basic
Previous:
Definitions of Basic
---
In order to depict a taxonomy of multimodal human-computer interaction we will have to clarify a number of concepts and issues. The first assumption is that there are minimally two separate agents involved, one human and one machine. They are physically separated, but are able to exchange information through a number of information channels. As schematically shown in figure 1.1 , we will make the following definitions.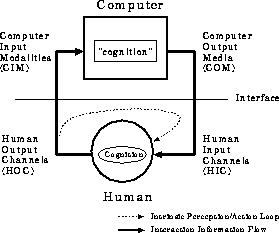 Figure 1.1 : A model for the identification of basic processes in human-computer interaction. Note that in fact two loops exists: the intrinsic feedback as in eye-hand coordination, and the extrinsic loop, imposed by the computer.

There are two basic processes involved on the side of the human user: Perception and Control. Note that we take the perspective of the human process throughout this document. With respect to the Perceptive process, we can make a distinction between:
Human Input Channels (HIC) and
Computer Output Media (COM)
Within the Control process, we can make a distinction between:
Human Output Channels (HOC) and
Computer Input Modalities (CIM)
Then, within both of the agents, a cognitive or computational component can be identified, which processes the incoming input information and prepares the output. Also, at this intermediate cognitive level, intentional parameters will influence the processing, either implicitly, such as by design, in the case of non-intelligent agents, or explicitly, as in humans or in more sophisticated agents containing an explicit representation of goals and ``beliefs''. With respect to the machine, it should be noted that here the design is known, whereas for the human cognitive apparatus, the architecture must be inferred and cannot be observed directly.

Instead of the word modality at the human input side, and the word media at the human output side, we have chosen for the word channel, which also allows for a more clear distinction between the abbreviations (HOC

CIM

COM

HIC

HOC
...) which can also be pronounced as:
HOC: human output to computer
CIM: computer input from man
COM: computer output to man
HIC: human input from computer
The two halves of the loop will be further investigated in sections 2 , Perception, and 3 , Control and Manipulation, respectively. The interaction process between the operator (man) and the computer (machine) will be considered in section 4 , Interaction, whereas the internal processing is described in 5 , Cognition.



---




Next:
Levels of observation
Up:
Definitions of Basic
Previous:
Definitions of Basic
---
---

Esprit Project 8579/MIAMI (Schomaker et al., '95)
Thu May 18 16:00:17 MET DST 1995