First International Workshop on Frontiers in Handwriting Recognition (IWFHR-1)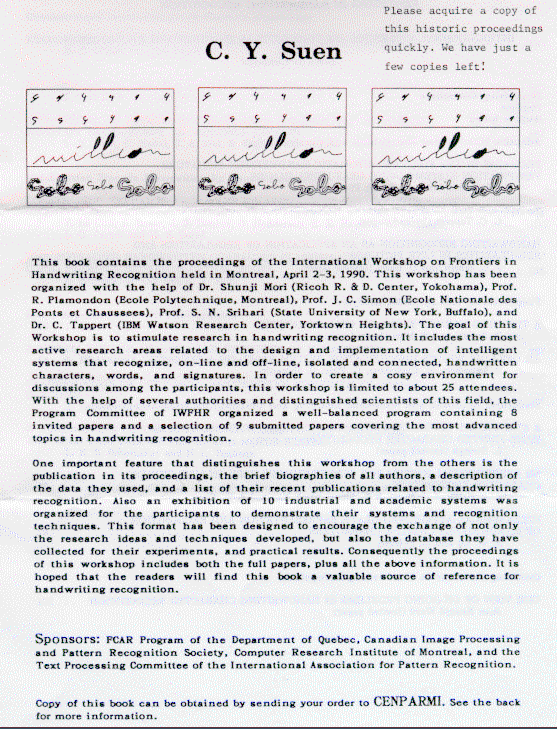 ---
(OCR-ed version:)
Frontiers in Handwriting Recognition
C. Y. Suen

Please acquire a copy of
this historic proceedings
quickly. We have just a
few copies left!


This book contains the proceedings of the International Workshop on Frontiers in Handwriting Recognition held in Montreal, April 2-3, 1990. This workshop has been organized with the help of Dr. Shunji Mori (Ricoh R. & D. Center, Yokohama), Prof. R. Plamondon (Ecole Polytechnique, Montreal), Prof. J. C. Simon (Ecole Nationale des Ponts et Chaussees). Prof. S. N. Srihari (State University of New York. Buffalo), and Dr. C. Tappert (IBM Watson Research Center, Yorktown Heights). The goal of this Workshop is to stimulate research in handwriting recognition. It includes the most active research areas related to the design and implementation of intelligent systems that recognize, on-line and off-line, isolated and connected, handwritten characters, words, and signatures. In order to create a cosy environment for discussions among the participants, this workshop is limited to about 25 attendees. With the help of several authorities and distinguished scientists of this field, the Program Committee of IWFHR organized a well-balanced program containing 8 invited papers and a selection of 9 submitted papers covering the most advanced topics in handwriting recognition.

One important feature that distinguishes this workshop from the others is the publication in its proceedings, the brief biographies of all authors, a description of the data they need, and a list of their recent publications related to handwriting recognition. Also an exhibition of 10 industrial and academic systems was organized for the participants to demonstrate their systems and recognition techniques. This format has been designed to encourage the exchange of not only the research ideas and techniques developed. but also the database they have collected for their experiments, and practical results. Consequently the proceedings of this workshop includes both the full papers, plus all the above information. It is hoped that the readers will find this book a valuable source of reference for handwriting recognition.

Sponsors: PCAR Program of the Department of Quebec, Canadian Image Processing and Pattern Recognition Society. Computer Research Institute of Montreal, and the Text Processing Committee of the International Association for Pattern Recognition.
---
Copy of this book can be obtained by sending your order to CENPARMI.
Frontiers in Handwriting Recognition
Proceedings of the International Workshop on Frontiers in Handwriting Recognition, held in Montreal, April 23, 1990
Editor

Ching Y. Suen, Ph.D.
Professor & Director. CENPARMI - Montreal


Published by CENPARMI,
Centre for Pattern Recognition & Machine Intelligence,
Concordia University,
1455 de Maisonneuve Blvd. West,
Montreal, Quebec H3G 1M8, Canada
ISBN 1-895193-00-1
Order your copy of this book by sending a cheque of US$50.00 or Cdn$60.00 (payable to Concordia University, add US$25.00 or Cdn$30.00 for airmail delivery) to CENPARMI.
Enter your name, mailing address, and phone number below:
---
FRONTIERS IN HANDWRITING RECOGNITION
INTERNATIONAL WORKSHOP ON FRONTIERS IN HANDWRITING RECOGNITION
3>Table of Contents

Organizing Committee
Preface
Author Index

Adaptive Handwriting Recognition and Cursive Scripts
PROGRESS IN THE FIELD OF AUTOMATIC HANDWRITTEN SIGNATURE VERIFICATION SYSTEMS USING GRAY-LEVEL IMAGES (p. 1)
Robert Sabourin and Rejean Plamondon
RATIONALE FOR ADAPTIVE ONLINE HANDWRITING RECOGNITION (p. 13)
C. C. Tappert (Invited paper)

HANDWRITING RECOGNITION AS AN APPLICATION OF REGULARITIES AND SINGULARITIES IN LINE PICTURES (p. 23)
J. C. Simon and 0. Baret (Invited paper)

Preprocessing and Syntactic Analysis
A THINNING METHOD BASED ON CELL STRUCTURE (p. 39)
T. Suzuki and S. Mori (Invited paper)

AN OFF-LINE WRITER IDENTIFICATION SYSTEM BASED ON A SYNTACTIC APPROACH (p. 53)
S. Impedovo, M. Castellano, G. Pirlo, G. Dimauro
Structural Approach and Automatic Learning and Chinese Character Recognition
A STRUCTURAL APPROACH TO AUTOMATIC PRIMITIVE EXTRACTION IN HAND-PRINTED CHARACTER RECOGNITION (p. 65)
L. Stringa (Invited paper)

AN EXPERIMENTAL SYSTEM FOR STROKE-NUMBER FREE ON-LINE CHINESE CHARACTER RECOGNITION (p. 73)
A.-J. Hsich, S.-J. Kung, S.-L. Shiau M._C. Kao and J -W. Chen
HIERARCHICAL ATTRIBUTED GRAPH REPRESENTATION AND RECOGNITION OF HANDWRIITEN CHINESE CHARACTERS (p. 87)
S. W. Lu and C. Y. Suen
On-Going Problems in Handwriting Recognition
ONE VIEW OF ON-GOING PROBLEMS IN HANDWRITING CHARACTER RECOGNITION (p. 101)
Jean Renard Ward (Invited paper)

Unconstrained Handwriting and Multiple Algorithms
READING UNCONSTRAINED HANDWRITING WITH BOUNDED CONTEXT (p. 109)
S. N. Srihari (Invited paper)

MULTIPLE ALGORITHMS FOR HANDWRITTEN CHARACTER RECOGNITION (p. 117)
J. J. Hull, A. Commike and T.-K Ho (Invited paper)

RECOGNITION OF TOTALLY UNCONSTRAINED HANDWRITTEN NUMERALS BASED ON THE CONCEPT OF MULTIPLE EXPERTS (p. 131)
C. Y. Suen, C. Nadal, T. A. Mai, R. Legault and L. Lam
Handwritten Zipcode recognition by Neural Networks
CONSTRAINED NEURAL NETWORK FOR UNCONSTRAINED HANDWRITTEN DIGIT RECOGNITION (p. 145)
Y. Le Cun, B. Boser, J. S. Denker, D. Henderson, R. E. Howard, W. Hubbard, L. D. Jackel and H. S. Baird
UNCONSTRAINED HANDWRITTEN CHARACTER CLASSIFICATION USING MODIFIED BACKPROPAGATION MODEL (p. 155)
A. Krzyzak, W. Dai and C. Y. Suen
Motor Aspects and Human Recognition
A SYSTEM FOR THE ANALYSIS AND SYNTHESIS OF HANDWRITING (p. 167)
R. Plamondon and P. Yergeau (Invited paper)

CLASSIFICATION OF CONFUSING HANDWRITTEN NUMERALS BY HUMAN SUBJECTS (p. 181)
R. Legault, C. Y. Suen and C. Nadal
A HANDWRITING RECOGNITION SYSTEM BASED ON THE PROPERTIES AND ARCHITECTURES OF THE HUMAN MOTOR SYSTEM (p. 195)
L. R. B. Schomaker and H.-L. Teulings
---