---
INFO 14th DUTCH ACROBATICS FESTIVAL, MAASTRICHT

9/10/11/12 JUNE 2000
---
REGISTRATION DESK at the Jeanne d'Arc College
Registration at the festival will be possible beginning at 19.00 hrs fridaynight. We will have a list of all those who have registered by previously send registration form if send back before the 15th of May. You can also register directly at the festival, butÖ..you will have to pay a surcharge and you take the risk that the festival is packed. This could be a "limited edition ".


COSTS IN EURO's!!
Adults
1 day
2 days
Festival price


30,-- Euro
46,-- Euro
62,-- Euro

Children 6-16 year
1 day
2 days
Festival price


15,-- Euro
23,-- Euro
31,-- Euro

Children up to 6 year
free


- Please register and pay seperately, if necessary copy your form.
- Prices only valid when registered before the 15th of May.
- After the 15th of May 2000 only cash payments will be possible at the registrationdesk and a surcharge has to be payed in DUTCH GUILDERS!! Payment by bank only in EURO'S !! In case of doubt please bring your bankreceipt.
- Additional charges : Whole festival f 25,=; 2 days f 20,=; 1 day f 10,= (Children 50% ). They can only be paid in DUTCH GUILDERS !!

TWO LOCATIONS
The festival will take place at the Jeanne d'Arc College and at the sports hall Cadier en Keer. A 10 minute walk apart, so please bring bikes, umbrellas and raincoats.
CAMPING AND SLEEPING
There are lots of possibilities to camp and mobile homes are welcome, but there will be no opportunity to stay overnight in the College. The building will be closed overnight.
PARKING
There is sufficient room to park your vehicle at the College.
FOOD
Also this year the catering will be organized by the well-appreciated "RAMPENPLAN ". They will overwhelm you once more with all these nutritious meatless delights. As every year they do need a number of volunteers to serve you right. This year each time a number of participants of a chosen city will be asked to help them with their difficult task. We do count on your co-operation.
MONEY
Prices include catering as well as coffee, tea and milk accompanying the food. Everything else is for your own charge and has to be paid in Dutch Guilders. A bankmachine is approximately 20 minutes walking distance away. All major creditcards accepted.
FOR THE YOUNG
Also this year special attention will be paid to the young acrobats 8 years and up. RIJK of the COMO'S will, together with the children aged between 8 and 16, prepare a special presentation assisted by the duo SAVAR. In just two workshops (on Sunday and Monday) they will set up a presentation with at most twenty children. So if you want to perform with these wellknown artists fill in immediately your registrationform to be shure you can join this special group. You do not need any previous experience with acrobatics.
CRECHE
Day nursery will be available during the workshops on Saturday, Sunday and Monday. A small fee will be asked. Please fill out the registration form.
TEACHERS
A festival "for acrobats by acrobats". When you do feel the urge to present a workshop please fill out the enclosed "Teachersform" and send it with your registration form before May 1st. For further information please contact Serva Slangen (00-31-43-3251865/ 3875175 ) or NoŽl Spauwen (00-31-24-3558718/ 6-53642880)
VOLUNTEERS
As always we need volunteers to help with all kinds of different tasks, like the registrationdesk, decorating etc., Those who help an entire day will be rewarded! Please mark this on your form and join the volunteers. For more info please contact Ardy Quaedackers (00-31-43-3438217).
FREE ACROBATICS
During the festival there is the opportunity to work on your skills on a specially freekept place in one hall open till 22.00 hrs.
OPEN STAGE
Saturdaynight we present an open stage. Present a new, existing and/ or funny act on any level. Your act may not exceed 10 minutes. This will be strictly guarded. It's nice if you can let us know in advance, but you can also let us know on the festival itself when you have concoured your shyness. For more information please contact Walter Swinnen (00-31-43-3258457).
SPECIAL ACT / PARTY
Sunday in the afternoon we want to organize a special act !! Accessible for everybody. After this show/ performance there will be held a party at the college with a band.
MONDAY
After the two last workshops the festival will be closed with a festive brunch.
LIABILITY
Participation at the festival is at your own risk. Don't overestimate your own or your fellows' capabilities.
ADVERTORIALS
We are still looking for any sponsoring of the festival. You can place a advertissement from ¶ 50,- and up. You can also advertise on our Homepage: please contact Harry Steijns (00-31-43-3219007). Or E-Mail to acro2000@yahoo.com
FINAL CHANGES/NEWS CAN BE READ IN "DE AKRONIEK" AND ON OUR HOME-PAGE!
CONCEPT PROGRAMME

Friday June 9th
19.00 - 22.00 hrs
arrival and registration
20.00 - 23.00 hrs
hall open/ free acrobatics

Saturday June 10th
8.00 - 10.00 hrs
breakfast
vanaf 8.30 hrs
registrationdesk open
10.00 hrs
opening festival
10.15 hrs
warming-up for all participants
10.45 hrs
1st series workshops
12.30 hrs
2nd series workshops
14.15 hrs
3rd series workshops
16.00 hrs
4th series workshops
12.00 - 14.00 hrs
lunch
17.30 - 20.00 hrs
dinner
20.30 - 22.00 hrs
Open Stage

Sunday June 11th
8.00 -10.00 hrs
breakfast
vanaf 9.00 hrs
registrationdesk open
10.00 hrs
warming-up for all

3 series workshops idem as Saturday


16.00 - 19.30 hrs
special act
19.30 - 21.30 hrs
dinner
v.a. 22.00 hrs
party with band


Maandag 12 juni
8.00 - 10.00 hrs
breakfast
vanaf 9.00 hrs
registrationdesk open
10.00 hrs
warming-up for all
10.45 hrs
last but one workshops
12.30 hrs
final workshops
13.30 - 15.30 hrs
festive brunch
tot 17.00 hrs
departure participants
---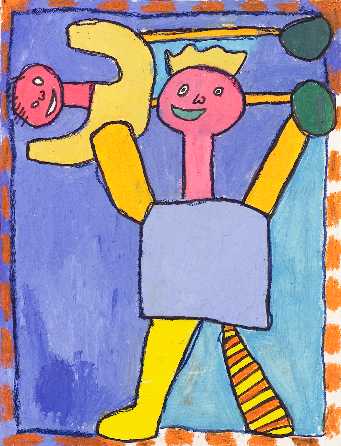 Festival page
---